For all of you hobby seamstresses who got weary sewing vintage inspired fashion and just would like some time off and simply SHOP for some more vintage (-inspired) fashion, check out this absolutely fabulous independent online magazine N.E.E.T. - for grassroots creativity.

Fuer alle von euch Hobbyschneider/innen, die vom Naehen etwas ermuedet sind, deren Appetit auf Vintage Mode aber unersaettlich ist, hier ein kleiner Lesetipp:
N.E.E.T. Magazine, das fantastische Onlinemagazin - for Grassroots Creativity!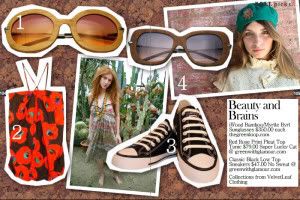 The magazine which is published 4 times a year features a lot of grassroots and indie designers, diy projects, fashion illustrations, foto shoots, articles about global street style, and of VERY big interest for us: vintage clothing.

Das Magazin wird 4 mal jaehrlich im Web publi
ziert und bringt regelmaessig Interessantes ueber Indie-Designer, DIY Projekte, Mode, Modezeichnungen, Artikel ueber Streetstyle und vor allem gaaaanz viel Vintagemode.
Enjoy reading the magazines - older issues are also available to look at.
Viel Spass beim Stoebern - auch alte Ausgaben sind online einzusehen! Alle sind einzigartig und lesenswert.